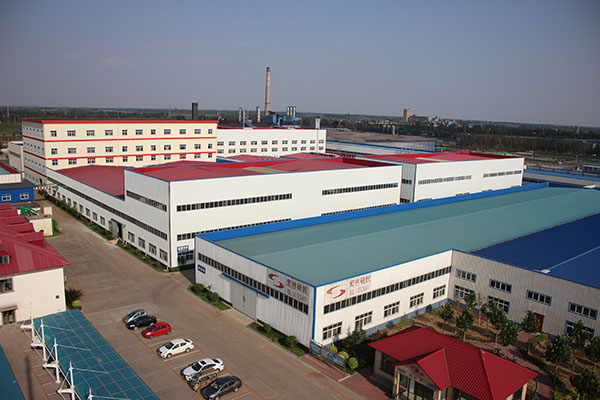 Tangshan Honglin Silica Gel Co., Ltd

is a high-tech enterprise integrating the research, development, and production of silicone products, being equipped with modern equipment and integrated production lines. The company carries out production by adopting advanced air granulation technology, in strict accordance with national standards. Based on our advantages in location and resources, we will build the company into an internationally renowned and Asia's largest manufacturer of silicone products.
The company occupies a land of 150 mu; the first phase has an investment of RMB 150 million, which will have a total investment of RMB 1.08 billion, with a total floor area of 50,000 square meters, and an annual output of 88,000 tons of various types of silicones after completion. The company now has more than 260 employees, including more than 30 people holding senior technical titles, accounting for about 13% of all employees. Most of the employees have many years of experience in the production of chemical products, with strong management skills and professional qualities. The company's goal is to sell products across the country and export them to the world, and establish a high reputation in the markets at home and abroad. The company's products are mainly used in the dehydration and purification of packaging desiccants, pet litters, petrochemical catalyst carriers, and chemicals, industrial gas drying, air purification, chemical separation, flavor carriers, household air fresheners and deodorants and so on.
Our excellent geographical location and rich resources provide friends at home and abroad a good environment for investment and a platform for cooperation. Honglin Silica Gel Co., Ltd. is located in Guye District, Tangshan, Hebei Province, which is less than one hundred kilometers from Tianjin Port, Qinhuangdao Port, and Jingtang Port. This area is rich in gas supplied heat. It also has huge reserves of high-quality silica sand, as well as soda ash provided from Tangshan Sanyou nearby, greatly saving the expenses of energy and raw materials, lending the company with the advantages of quality and cost.
Tangshan Honglin Silica Gel Co., Ltd., as a vital force in the silicone industry, will stick to the tenet of carrying out technological innovation, establishing a good corporate image, creating an excellent reputation in the society, and promoting the company's development, and promote the management philosophy of "being rigorous, pragmatic, innovative, enterprising" and the marketing idea of "quality first, honesty, customer first". The company will follow the general strategy of green Honglin, first-class Honglin, and global Honglin, to constantly make new contributions to the development of the silicone industry. We will produce various products to meet the needs of users based on customer requirements.